Home of the Soap Baa'ar
Hello! You've found Wooly Bear Soaps, home of the particular and spectacular Soap Baa'ar... a marvelous handcrafted bar of soap made with sheep's milk.
It is creamy, luscious and scented w/ vetiver, rosewood and ylang ylang.. a grassy floral, woodsy sort of fragrance... inspired by the sweet pastures where sheep like to hang out. It is lovely moisturizing soap, fabulous lather and so good for your skin...
But wait! There's MORE! I make more than just the Baa'ar, read on!
---
Welcome!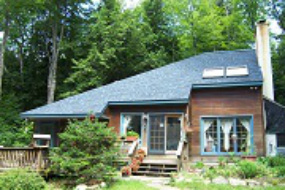 The Wooly Bear soap shop churns out quite a few varieties, over twenty and counting, each one crafted individually with a specific skin care goal in mind.




This is where all of our unique natural soaps are made by hand in small batches, with careful attention paid to each ingredient. Whenever possible I use organic, locally sourced materials in soaps such as popular Oatmeal Honey and my signature Soap Baa'ar, made with fresh sheep's milk. You will notice the difference the moment you start using a bar.. great lather, subtle scent released as you wash and clean smooth skin afterwards.

All colorants and scents come from nature as well, with the exception of a few such as sandalwood, which is endangered and prohibitively expensive. The palm and coconut oils used are also from sustainably harvested sources.

In my "little house in the big woods" I have been creating luxurious soaps since 1996, but soap making has been a passion of mine for over 20 years. If you're like me, you are careful about what you put on your skin, and in your body. Using a grocery store bar of soap (or for that matter any mass produced bar) is like eating a Twinkie... you really want to do that?!!


---
Winter in Vermont
As you can see, winters dump a fair bit of snow around here. Time to knit a few sweaters... and to churn out Wooly Bars - little wool encased soaps, and also some shea butter lip balms for those (like me) who are sensitive to petroleum based products. To combat winter dry skin, I concoct a rich smooth lotion too.
---
soapmakin' fool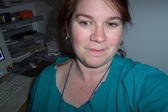 yeah, this is me. I'm soap obsessed, Border collie obsessed and knitting obsessed, and I wouldn't change a thing. Some how it all leads back to sheep, they're some of my favorite critters.
I hope you have fun poking around here... I'm having fun learning to put a website together. Feel free to email me at
elaine@woolybearsoaps.com
, let me know what you think! I welcome your input.. lord knows I need all the feedback I can get.
---
What's new, what's next...
What's new, what's next?

Hello & thank you for visiting! And thank you for your patience as this website went thru a few convolutions.
​
But!! Wooly Bear can still be found every Friday afternoon in Ludlow, VT at the Farmers Market from 4 to 7PM, occasional Saturdays at the West River Market in Londonderry, VT from 9AM to 1PM and Sundays TBA. Our soaps can also be found in Pierce's Store in Shrewsbury, VT.

Stay sudsy... E